| | |
| --- | --- |
| | Unique, Advanced, Proprietary and Patented i-Kote™ Solid Dry Film Lubricant Eliminates Fretting Wear |
| | UHV Compatible |
| | Cost-effective compared to Silver plated, Dicronite™ or any other coated fasteners |
| | Self Healing - Can be re-used many times - effectively forever |
| | No more seized, galled or broken screws and high repair costs |
| | Nanocomposite i-Kote™ coating will NOT decompose, flake, delaminate or chip - ever. |
Fasteners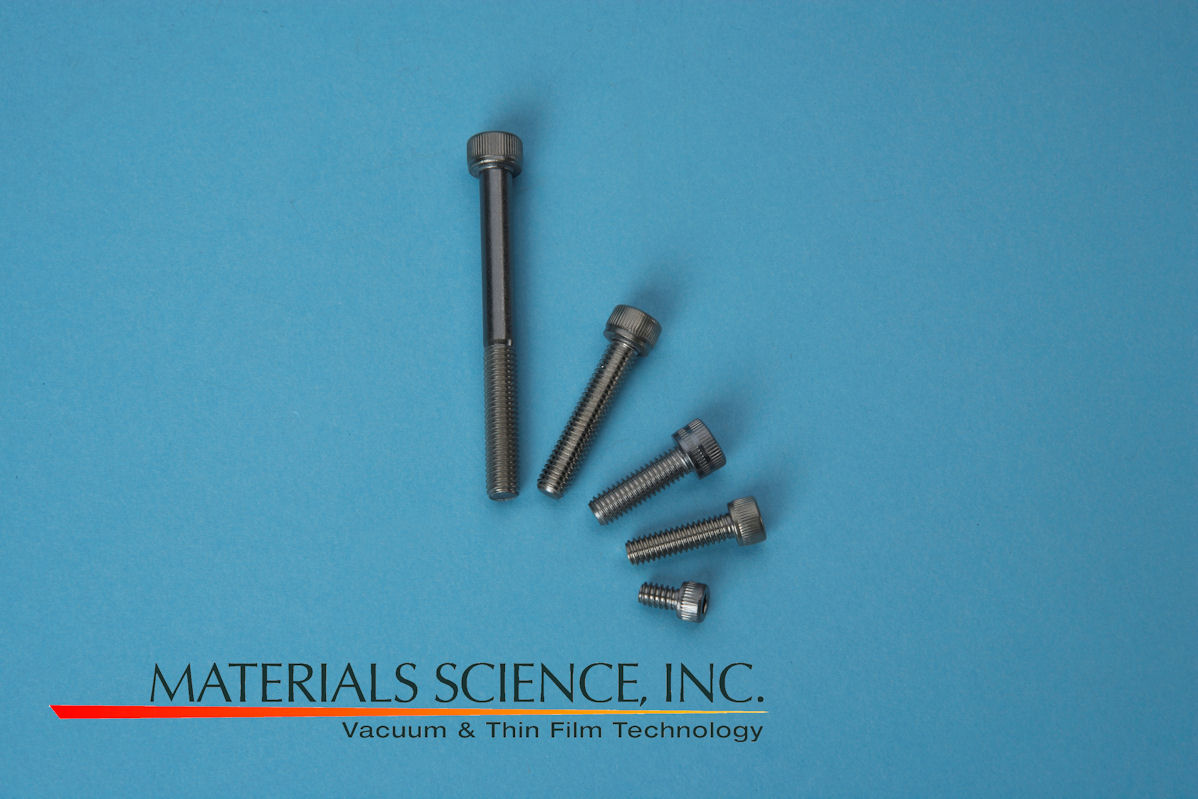 These fasteners are coated with a patented smart, nanocomposite lubricant that adapts to being in vacuum or exposed to atmosphere. It has a friction coefficient of < 0.01. It does not absorb water vapor and many thousands of pumpdown and vent cycles will not generate particulates caused by water vapor absorption in high humidity conditions (a common problem with molydisulfide and other vacuum compatible lubricants). High temperatures (exceeding those encountered in any sputter deposition system) will not degrade it's performance. The coating binds at a molecular level and exhibits excellent adhesion. It's self-healing and will not ever wear off during use. It does not chip, peel or crack. It is virtually chemically inert, has a very low vapor pressure and is UHV compatible. In short, it completely eliminates all the use and maintenance problems and expenses associated with the use of threaded fasteners in vacuum and operates reliably under all conditions.
Vented Fasteners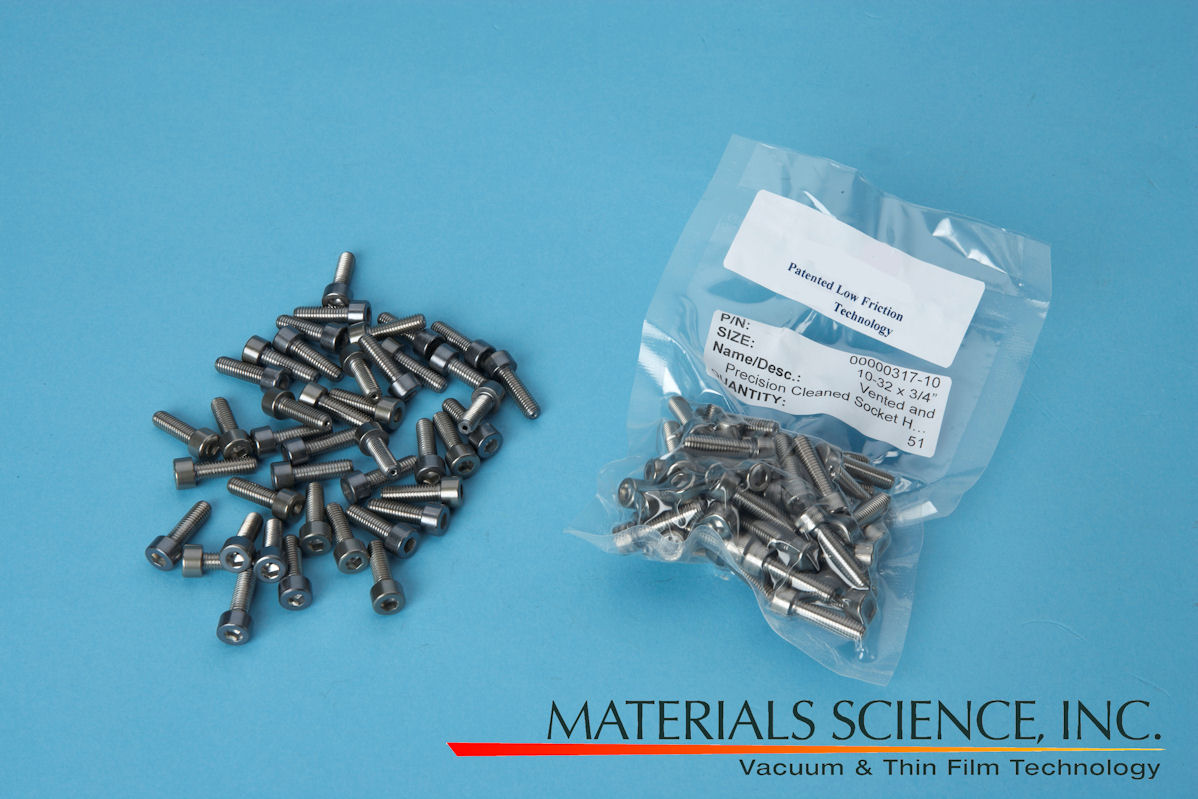 Vented fasteners are available. Be aware that the vented fasteners have significantly less mechanical strength and should not be used when high degrees of mechanical stress are involved. Slotting the threads to achieve venting results in the same general degradation of mechanical integrity.

The real benefits of vacuum relieving a fastener include preventing local high pressure that can result in arcing and glow discharges and elimination of multiple sources of virtual leaks that can limit ultimate system base pressure and cleanliness and faster pumpdown times. These benefits must be considered in contrast to the potential problems caused by weaker fastener strength, mainly - loss of reliable seal loading. Since there is less bulk material in the fastener, it will stretch more easily and be more likely to fail.

Don't use vented fasteners in locations where reliability is absolutely necessary - like water to vacuum or atmosphere to vacuum seals. Whenever possible, components and systems should not rely upon vented fasteners. Better the device itself should be vented.
Comparison to Other Coatings
Once used, the plating on silver plated fasteners is broken. This is also true when MoS2, gold, dicronite, WS2 and other surface treatments are applied. They are not reusable as many assume. A used silver plated fastener will gall just as easily as an uncoated one. A VacSmart™s with the nanocomposite coating can be safely used many times.
At a minimum, the i-Kote™ coating on VacSmart™ fasteners will last 1.5X (usually many times better) than any other available products.
Other Parts
Any part subject to rotary motion or sliding wear used in a vacuum system is likely a good candidate for the application of the nanocomposite solid film lubricant. It is superior to Dicronite, molydisulfide and liquid lubricants. In fact the coating is presently in use in many critical space applications.
The coating has been successfully applied to bearing surfaces in rotary substrate fixtures, motion translation devices, linkages and items like the camscrew used in our Kamlok™ fast target exchange mechanism (shown in photo).
Contact us to see if we can help you.